We're the original Organic Comfort specialists, manufacturing pure organic comfort for CozyPure® organic bedding brand. Pure natural mattresses made from organic raw materials such as organic cotton and wool. Plus creamy white natural latex foam rubber from the rubber tree. Our raw materials are third-party certified for purity and quality.
Since 1991, we've been offering consumers nationwide organic comfort selections ranging from cozy pajamas to pure organic bedding. In fact, we were the FIRST company to provide pure organic comfort bedding to the national consumer.
Almost ten years ago we coined the term organic comfort and started using that as our tagline on our Tomorrow's World catalogs. Then in 2004, we officially made Organic Comfort Zone a separate company as manufacturers for all our organic comfort products... specializing CozyPure organic comfort for the bedroom so you could sleep organic.
---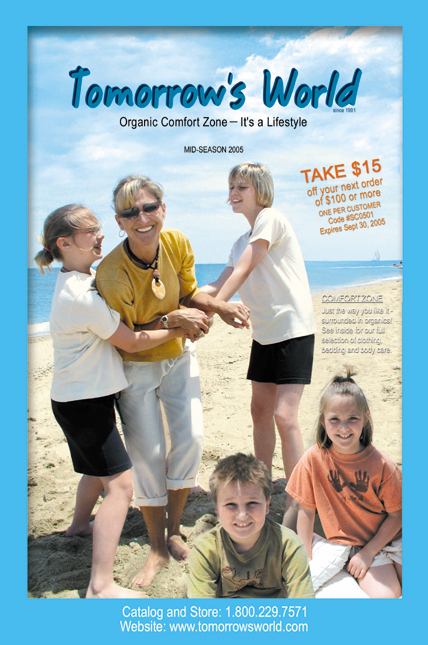 Photo: 2005 Tomorrow's World catalog
We started to introduce the "Organic Comfort Zone" name to our customers.
---
You may find a few imitators - but there's only one true original "organic comfort" manufacturer....
ORGANIC COMFORT ZONE
manufacturers of Cozy Pure organic comfort bedding products
We've said it many times in many ads throughout the years, and we'll say it again...
Experience Organic Comfort!!
---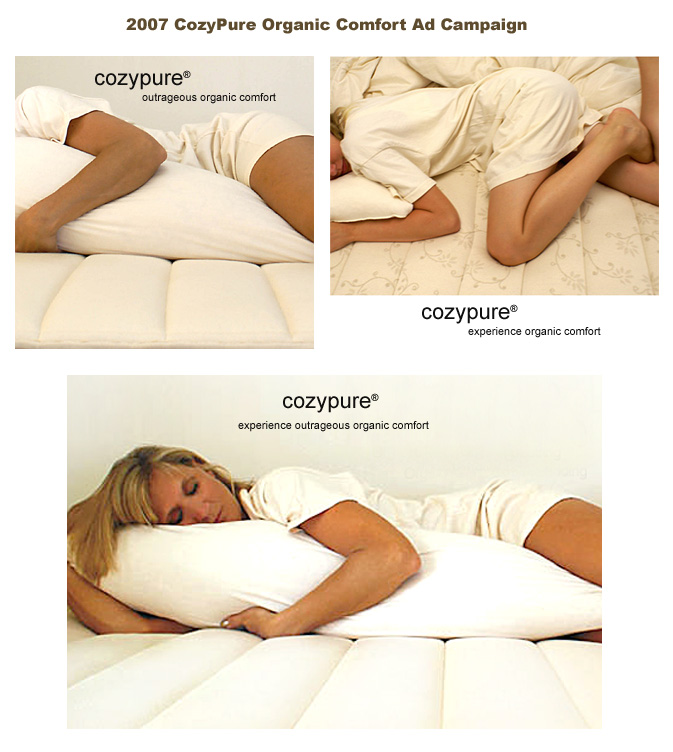 ---
We pioneered organic comfort for the home and bedroom, and our beautiful open-air solid wood shelving and work tables are perfect for storing our raw materials and manufacturing our bedding. Any organic odors (such as cotton seed oil) are naturally disipated and sanitized with our open-air shelving and natural space.
We are the first organic mattress and organic bedding factory to produce 100% of our own green CLEAN energy. Our products are produced in America's ONLY 100% self-generated clean energy factory. Our Cozy Pure organic comfort products come full circle. Eco-friendly, organic and green materials manufactured with 100% clean green energy. We've invested in a full solar panel array system with two wind turbines and geothermal HVAC system because we walk the talk. No marketing hype here.
Do you have questions? Are you confused about all the misleading information out there on the internet and in print advertisements? If so, we invite you to call us. We are happy to serve you and assist you with any concerns you may have about misleading and disceptive information. We can provide you our company history, catalogs, bedding samples and materials, and hopefully answer all your questions too! Call us at 800.229.7571. We would love to help assist you in creating a healthy pure organic comfort space in your home!